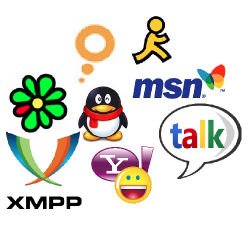 Instant messaging, or IM, as we know it today started getting widely popular in the mid-1990's through clients like AOL Instant Messenger (AIM). IM has been used to connect patrons with librarians for almost as many years. The biggest headache that comes with IM is the one-to-one limitation. That is, IM networks are designed for an individual to chat with an individual. This limitation, combined with an inability to transfer patrons between librarians, really limits the efficiency and effectiveness of an IM reference service. With LibraryH3lp, you can break free of these constraints.
LibraryH3lp allows your library to increase staffing coverage by enabling multiple librarians to monitor your existing IM identities on popular IM networks without disconnecting each other. LibraryH3lp routes incoming chats from IM networks to all available librarians. The first librarian to respond to an incoming patron query is connected with the patron and the other librarians are notified that the chat has been claimed. Plus you can transfer patrons between librarians as needed!
LibraryH3lp unifies IM reference, website chat, and SMS reference into a single, simple interface. Let your patrons choose their preferred communication channel. You can easily and efficiently monitor them all.