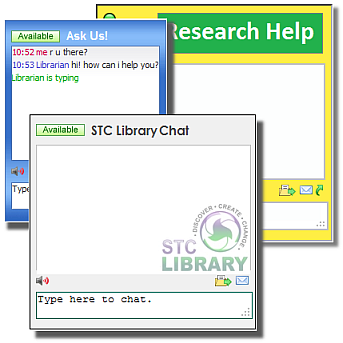 With today's schmorgesborg of technologies, patrons are more connected than ever. Libraries are under increasing pressure to be everywhere at once. You probably have a website for your library, which is an important first step. But your website can be so much more than just an advertisement for library services. Evolve your website into an extension of your in-person library services! By taking existing in-person services, like Ask A Librarian, digital, patrons have greater opportunity and flexibility to interact with librarians.
By integrating Ask a Librarian live web chat into your website, librarians can provide instant answers, links to articles/references, and more by typing messages back and forth with patrons in real time. But why just stop with chat on your website? LibraryH3lp software unifies webchat, text messaging and/or your library's identity on popular IM networks into a single, simple interface that is accessible on your desktop, laptop, tablet, or smart phone.
Forming a consortium or network of libraries? LibraryH3lp software makes it easy to provide seamless staffing and transfer of chats between participating libraries staffing a collaborative Ask a Librarian service. With features like rollover, patrons can be first routed to experts (or specific libraries) if available or onto less specialized personnel otherwise.